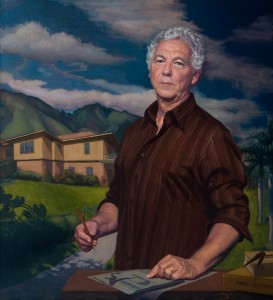 Hunton Conrad, President – Hunton Conrad & Associates Inc.
Hunton Conrad has been improving his own environments inside and out from the age of nine and by the time he reached high school, he was learning the important fundamentals of design. After traveling around the world and living on the Mainland for many years, Hunton Conrad returned home to his native Hawai'i in 1978. His artistry and "sense of place" convinced him he could play a part in integrating progress with development appropriate to the environment.
Hunton's initial projects focused on expanding the vision of Tropical Landscaping and he quickly developed into one of Hawai'i's premier Tropical landscape designers. "At that time, 'tropical landscaping' meant a manicured lawn and a red hibiscus hedge," remembers Conrad. In just a few years, he was recognized as one of the most inventive landscape designers in Hawai'i. He is widely known and acknowledged as the first person ever to fashion interior waterfalls.
Hunton's design esthetics led him to begin creating distinctive and exciting whole environments, capturing and reflecting the beauty of his Hawaiian surroundings. Just ask the owners of the Hotel Hana Maui who chose him for the bottom-up re-do of one of Hawaii's premier resort properties.
Taking his typically atypical approach, Conrad revealed that his overall inspiration for the years-long project came from the brilliant palette of an astounding collection of original paintings of A.T. Manookian. He gathered further inspiration from the lush surrounding tropical environment. The results are positively luscious.
Hunton has progressed from designing landscapes to designing interiors to designing architecture to designing it all. He conceptualizes, designs, and crafts not only complete, but completely unique environments. "When people walk into an environment I've created I want it to be 'settling,'" says Conrad. "I want everything you see and feel around you to make you say, 'This is exactly where I want to be.' I want the environment to, literally, nurture you so that when it's time, you can go back into the world renewed, to do whatever it is that you do."
From multi-million dollar homes, world-class hotels, Hunton's unique vision continues to serve those wishing to create the finest home environments in Hawai'i. As he said, "it's been such a rewarding passage so far and I am very excited about continuing to help others to manifest their special and distinctive environments."